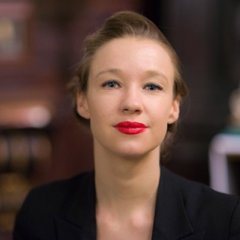 Elise is a French soprano who trained in France, Italy, Germany and in the UK. Her last opera roles include Rosina (Barber of Seville, Rossini) and Musetta (La Boheme, Puccini) with Villa in Canto at the Landon Theatre, and First Witch (Dido and Aeneas, Purcell) with the Fauristes. With Clemens non Papa consort she sung in Dido and Aeneas, (Purcell) Les Plaisirs de Versailles (Lully) Les Fêtes de l'Amour et de Bacchus (Charpentier), Jephte and Jonas (Carissimi). She sung Poulenc's La Voix Humaine, opera for one singer by Poulenc on several occasions, including at Voila Festival.
​Elise enjoys giving recitals and singing oratorios, cantatas and motets; such as Mozart's Exultate Jubilate, Coronation Mass, C minor Mass and Requiem, Haydn's D Moll mass, Pergolesi's Stabat Mater, Couperin's Leçons de Ténèbres, Vivaldi's Nulla Mundo pax Sincera and Amor hai Vinto, Bach's Jachzet Gott in Alles Landen, Händel's Messiah, Odes for St. Cecilia's Day the Birthday of Queen Anne. She regularly sings with Fortisemere Community choir and Symphony orchestra.
In London, she was an active member of the London Philharmonic Chorus, The Ionian singers and the BBC Symphony Chorus with which she performed in the Last Night of the Prom's.