Unique new phone application to help singers sing in French
Listen to an extract:
Lydia by Leconte de Lisle, set to music by Gabriel Fauré
---
Pricing – Public user
Price per year: £72 per device
Click her to get started
Email readit@elm-performance.com to request texts 
---
Pricing –
Conservatoires, Universities, Choirs, Opera companies…
Price per year
Institution in charge set up
​8 users  £20
15 users £36
30 users  £69
60  users £132
90 users £189
120 users £240
150 users £ 285
Price per year
ELM Performance in charge set up
8 users  £30
15 users £50
30 users  £95
60  users £180
90 users £255
120 users £325
150 users £385

Email readit@elm-performance.com
to get your log in details.
Email readit@elm-performance.com
to get started.
A portal to recordings of
French poems used in mélodies read by Elise Lefay,
language coach for singers.
Email Elise to make requests here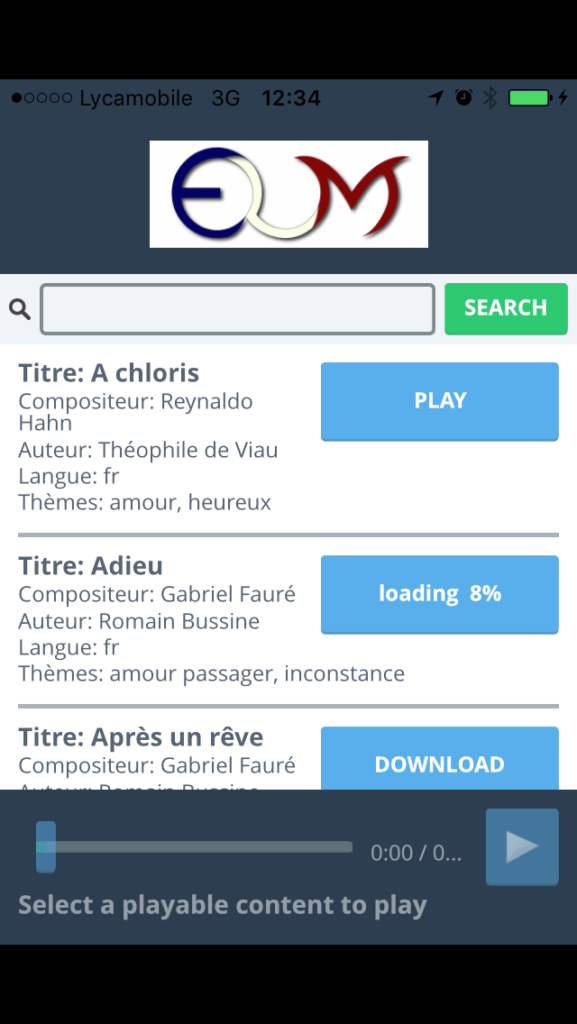 • Poems are read slowly and clearly
   with singing in mind
• Includes liaisons, elisions
   and follows the way composers set words to music.
• More than 60 texts are now available,
   requests for new material are very welcomed,
   new texts are added regularly.
• Recordings can be accessible off-line
      to practice anywhere
• Tracks can paused to allow time to repeat words.
• Includes teaching tracks to improve your French, sound by sound
All material on Read it ELM is considered public domain
No plug-ins required
Compatible with Android and IOS
What singers say:
"Elise's recordings are so clear, having the app is a bit like having a language coach in my pocket!"
"This app has changed the way I learn French songs. It helps memorise words, and saved me a lot of time"
"I can now practice my French on the tube or plane, that's amazing"
​"Elise was so quick to add texts I needed urgently!"
"It might not replace 1 to 1 coaching with Elise, but it means I'm more prepared for our sessions"
Teaching tracks sound by sound and sound dictations to teach yourself the IPA
​
  Nasals [ɑ̃], [ɛ̃], [ɔ̃]​
   [a], [ɑ], [e], [ɛ], [e], [ɔ], [o], [u], [i]
   [œ] ,[ø], [y], [ɥ]​
   Basic reading course
---
Recordings currently available:
Opera
Most scenes from:
Carmen by Bizet (including recit, choruses and children choruses)
Iphigénie en Aulide by Gluck  (including recits and choruses)
Hippolyte et Aricie by Rameau (including recits and choruses)
Miscellaneous Arias:
Soprano
Les oiseaux dans la Charmille, Les contes d'Hoffmann, Offenbach
Elle a fui la tourterelle, Les contes d'Hoffmann, Offenbach
Adieu notre petite table, Manon, Massenet
Je suis encore toute étourdie, Manon, Massenet
Je veux vivre, Roméo et Juliette, Gounod
Je dis que rien de m'épouvante, Carmen, Bizet
Mezzo soprano
Dieux puissant qui j'atteste, Iphigenia en Aulide, Gluck
L'amour est un enfant de bohème, Carmen, Bizet
Les tringles des sistres tentaient, Carmen, Bizet
Près des remparts de Séville, Carmen, Bizet
Card aria, Carmen, Bizet
Va! Laisse couler mes larmes, Wherter, Massenet
Mon coeur s'ouvre à ta voix, Samson et Dalila, St Saëns
Connais tu le pays, Mignon, Thomas
Soprano/Mezzo soprano
Faites lui mes aveux, Faust, Gounod
Tenor
La fleur que tu m'avais jettée, Carmen, Bizet
Baritone
Sois immobile, Guillaume Tell, Rossini
Avant de quitter ses lieux, Faust, Gounod
Bass
To be uploaded soon, requests welcome
​
---
Mélodies
Hector Berlioz
Les Nuits d'été
Villanelle
Le spectre d'une rose
Sur les lagunes; Lamento
L'absent
Au cimetière
L'île inconnue
Ernest Chausson
Le Colibri
Claude Debussy
Ariettes Oubliées
C'est l'extase
Il pleure dans mon cour comme il pleut sur la ville
L'ombre des arbres  dans la rivière embrumée
Chevaux de bois
Green
Spleen
Miscellaneous
Beau soir
Romance
Henri Duparc
Chanson triste
Extase
Soupir
Phidylé
Gabriel Fauré
La Bonne Chanson
Une Sainte en son auréole
Puisque l'aube grandit
La lune blanche
J'allais par des chemins perfides
J'ai presque peur en vérité
Avant que tu ne t'en ailles
Donc ce sera par un clair jour d'été
N'est-ce pas
L'hiver a cessé
Le Jardin Clos
Exaucement
Quand tu plonges tes yeux dans mes yeux
La messagère
Je me poserai sur ton coeur
Dans la nymphée
Dans la pénombre
Il m'est cher, Amour
Inscription sur le sable
5 Mélodies de Venise 
Mandoline
En Sourdine
C'est l'extase
Green
A Clymène
Poème d'un jour 
Rencontre
Toujours
Adieu
3 Songs opus 18
Le voyageur
Automnes
Miscellaneous
Aubade
A Clymène
Après un rêve
Au bord de l'eau
Chanson d'amour
Chanson du pêcheur
Clair de lune@Ici-Bas
Le papillon et la fleur
Le secret
Les berceaux
Les roses d'ispahan
Lydia
Mai
Nell
Notre amour
Sylvie
Charles Gounod
Au Rossignol
Reynaldo Hahn
A Chloris
Si mes vers avaient des ailes
Wolfgang Amadeus Mozart
Dans un bois solitaire et sombre
Maurice Ravel
5 Melodies populaires Grecques
Le réveil de la mariée
Là-bas, vers l'église
Quel galant m'est comparable
Chanson des cueilleuses de lentisque
Tout gai!: Tout gai, ha, tout gai!
Sainte
Paolo Tosti
Chanson de l'adieu
Eric Satie
Je te veux
​
​